How Business Financing Options Affect Credit (And Vice Versa)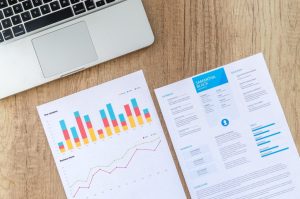 Applying for business financing can sometimes seem like an opaque process. Yes, there's some subjectivity involved in business financing approval — a human underwrites your loan, after all. But, for the most part, lenders use a fairly consistent set of qualifications across the board. No matter which small business financing options you're seeking, lenders often look at one element before anything else: Your business and personal credit histories.
This means you'll need to understand your credit history and how it affects your creditworthiness before applying. Once you're approved, you'll also need to know how getting that loan will affect your credit afterward.
Proactively, you can take charge of your business' cash flow by using forecasting tools. ForwardAI's forecasting tool can help you see the strengths, weaknesses, and opportunities in your cash flow. As business funding plays a role in your cash flow management, here's what you should know about the relationship between business financing options and your credit.
Business funding begins with your credit history
Some types of business financing products are harder to qualify for than others — that's a given. For instance, only the most qualified candidates with solid credit histories and consistently great revenue can score Small Business Administration (SBA) loans. (Despite your buzz, your kombucha startup will need to build up some real time in business before you can even consider a government-backed loan.)
Before you can even understand if you're in the running for certain business financing products, you'll want to review the basic requirements for business financing options you're interested in. These requirements will vary from lender to lender. They'll sometimes include revenue and time in business — but they'll almost always include your credit rating.
Before you apply for business financing, lenders look at your credit history because it's considered an objective representation of your history with debt. A credit report indicates risk: the better your report, the more likely they are to get their money back. And lenders are in the business of mitigating their risk. They tend not to lend to the riskiest borrowers with weaker credit histories.
Both your personal and business credit histories matter
As a business owner, your personal credit history will be the first place a lender looks to size up whether or not they believe you're a good candidate for any sort of business financing options. But they'll also be looking at your business's credit history.
A personal credit score is that number you're used to seeing usually measured out of 850 (though some other bureaus use different standards) — it's important for applying for personal credit cards, mortgages, car loans, even when you open up an account with a new telecom provider. Factors that affect your personal credit include your credit utilization ratio, length of credit history, outstanding debt, and more. Your personal credit score will vary slightly among the three main bureaus — Equifax, Experian, and TransUnion — depending on how they weight different factors. Lenders will look at this because you own the business — so, if you've been historically responsible with personal debt, it's likely you'll do the same with your business's money.
Then, there's your business credit score. It's exactly the same in that it represents how you've handled debt in the past for your business. The factors that go into it are similar, too, but it also includes things like the risk inherent in your industry (like tobacco manufacturing or apparel manufacturing) and your company size. This score, which is often between 0 to 100, begins building as soon as your business starts.
Why a strong credit rating is important
A strong credit history obviously hugely important for qualifying for business financing options. But, often, the stronger your credit rating, the less expensive your loan. Candidates with good credit history — and, subsequently, higher credit scores — will generally receive better repayment terms.
For example, if you apply for a $35,000 medium-term loan with a credit score of 810. You might receive a four-year monthly repayment at 8.5%. That's $6,409.15 in interest. But maybe that same loan to a candidate with a score of 690 would have monthly repayment terms of three years at 15%. Try paying $8,678.31 instead. There are, of course, a lot of other factors that go into determining your loan terms. But credit history is a big piece.
How business financing options affect your credit rating
You got the business financing you needed — that's huge. Take a breath, feel good. Okay, now get serious about paying it back so you don't put your credit history in jeopardy.
We're not out to be killjoys, certainly. You wouldn't be flippant about letting your business credit card bills collect dust, right? You'll need to be serious about paying back your business loan with the same steadfast approach, too. Although a business loan is a very different financing instrument than a business credit card, they're both funding options. No matter what you're approved for, you have to pay back your debt. That means delinquency on your business loan will negatively impact your credit history.
How business financing options can improve your credit
Before we get into doom and gloom, let's look on the bright side. If you're diligent about paying your loan bills on time and in full, according to the terms your lender sets, you'll be able to raise your score. It makes sense: You're proving to your lender that you are, in fact, responsible with debt.
If you pay off your loan like you should, you'll put yourself in a great position to qualify for better financing products down the line — whether that's a better business credit card or a higher-quality loan (like that SBA loan). You could even refinance your existing loan to lower the cost of your payments now that you've proven you can pay back your loan bills.
How business financing options can hurt your credit
On the other side of the coin, your credit rating could be at risk if you miss those payment due dates, or you're not able to pay at all. This is what's being called "delinquent" or "in default" respectively. Both are very, very bad news for your creditworthiness.
How to use cash flow to choose the right business financing option
It's absolutely crucial that you only take out a business loan that you can afford. That means one that you can pay back in terms of its total capital amount, but also one with repayments you can afford based on your business's cash flow.
When you use your cash flow forecasting tool to understand what kind of money is going on and what's going out, you should be able to make an informed decision as to what you'll be able to handle on a daily, weekly, or monthly basis — whatever your terms are. That's why it's so important to know your cash flow.
As you can imagine, that's also why lenders scrutinize your bank balances, balance sheets, and cash flow statements so closely. They want to make back their money.
How three types of business financing options could affect your credit
1. Short-term loans
Term loans are what you're thinking about when you hear "business financing" — that lump sum that gets deposited in your business bank account after approval. They come in lots of different forms. Short-term loans good solutions for working capital, specifically with bigger purchases.
The most important thing to understand about term loans is that you begin paying interest on the full amount of your term loan as soon as you receive it. Short-term loans specifically often require daily or weekly payments — which might be difficult for some entrepreneurs to keep up with.
Term loans will absolutely build your credit with consistent payment. But, daily or monthly payments can quickly become overwhelming for business with a high risk of cash flow problems. You'll need to be sure you can afford these payments before signing on to a short-term loan.
2. Business line of credit
As an alternative to a term loan, a business line of credit is a better option for businesses with cash flow concerns. It's set up as a kind of hybrid between a credit card cash advance and a traditional business term loan. You'll get approved — based on your personal credit history, generally — for a certain amount of business financing. Then, you're able to take out — or "draw" — as much or as little as you want to use at a time.
What's different here is that interest only begins to accrue when you draw funds, and you'll only owe interest on the portion of your total credit line that you use. Think of it like a clock starting. If you were approved for a business line of credit in January with a six-month repayment term, but you didn't make your first draw until March, your repayment isn't due until September.
Maybe you need a short-term business financing option, but you're concerned about a business term loan tanking your credit history because you might not be able to afford daily or weekly payments. That's a real concern — especially since many people use short-term financing to supplement cash flow concerns. In that case, a business line of credit could be a much better fit. Not only will you not have to worry about destroying your credit rating in the same way, but a business line of credit is actually a great credit-builder to prove your responsibility with repayment.
3. Invoice factoring
Invoice factoring is another essential option for cash flow crunches. With this type of business financing, you actually sell your invoices to a lender (factor) who'll pay you a portion of your invoice, and then work directly with the vendors whose payment is outstanding to seek the remainder. You'll get the rest, minus a fee when the balance is paid out.
This is one of the best options available for cash tied up in trade credit or overdue invoices. Because you're selling your invoice and not taking on any debt, factoring doesn't actually affect your credit history at all. Your activity with short-term loans, business lines of credit, and credit cards, too, all get reported to the credit bureaus. That's not the case with invoice factoring, though. Since you provide collateral (the invoice), there's no debt to report to the credit bureau. You actually might end up benefiting on the credit side, especially if you're able to pay other bills on time as a result of freed up cash.
Every business financing option  affects your credit rating
If you take away nothing else it should be that your credit history is really, really important. It's important before you apply for business financing. It's important after you apply for business financing. But it's also something you can control.
The bottom line is that every business financing product affects your creditworthiness and overall financial health — but it's up to you to decide whether it's a negative or positive effect. The simplest way is to make certain that you're only taking on the business financing options you can afford. And that's done by having an airtight sense of your cash flow and sense of how business lenders view your risk.
Start the process now by connecting ForwardAI Predict.
The information in this article is not financial advice and does not replace the expertise that comes from working with an accountant, bookkeeper or financial professional.
Images via Pexels