Meet the Team: Eleanor Kuan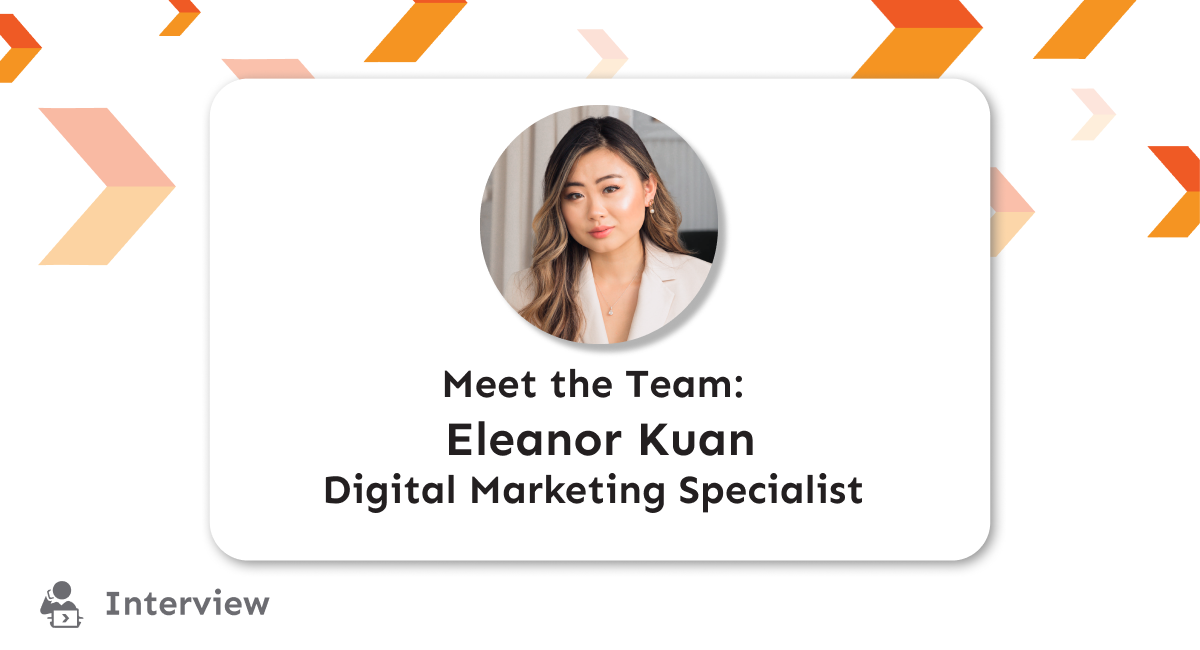 In this Meet the Team blog, we're going to interview Eleanor Kuan, our Digital Marketing Specialist. Having joined the team in early 2023, Eleanor plays a vital role in enhancing ForwardAI's brand awareness.
Hey Eleanor! Tell us about your overall background and experience.
I initially ventured into the creative world, pursuing Interior Design as my academic focus in Toronto. I graduated with a Bachelor of Interior Design and a minor in Marketing. Through many internships and working late nights, I realized that despite my passion for problem-solving through design, something was missing. With great courage, this led me to explore opportunities in digital marketing further. I spent several years in the academic sector and the organic food industry, specifically in the digital sphere. I worked at one of North America's largest natural organic food distributors for nearly four years, managing CPG, B2C, and B2B Marketing before transitioning into freelancing.   
All while bouncing from Toronto to Vancouver and then back to Toronto to find a place called home, my interest and curiosity in the future of technology started to unravel. I found myself fascinated and hyper-focused on learning about innovative software and technology. Then I decided to pursue an opportunity that could celebrate my experience and an open door for growth.  
Earlier this year, I found my place in ForwardAI, a role that marries my creative roots and my experience in working with B2B marketing. It's safe to say that I'm excited every day to work in the field that I've been manifesting. I couldn't be happier with my decision and am excited to continue growing in this field.  
As ForwardAI's Digital Marketing Specialist, who would you say is the target audience at the moment?
We want eyes everywhere, but our goal is to help small businesses, accountants, and financial experts grow their businesses and avoid failure. The company was established during the challenging times of the pandemic with a mission to aid businesses in improving their cash flow. Through digital efforts, our team is working on reaching small businesses, accountants, and SMEs. I primarily work on the Forwardly product, the first of its kind in the US, and we currently target tech-savvy early adopters eager to learn and take advantage of our groundbreaking product.  
What truly motivates me every morning is witnessing the genuine excitement expressed by business owners and accountants when they discover the potential of our product in improving their business. Knowing that we can help them overcome the long-standing challenges of cash flow gaps is incredibly rewarding. 
ForwardAI is a fully-remote company with a family-oriented team. How does it feel to be a part of this? 
When I started my career, the concept of a fully remote role didn't exist. The idea sounded ambiguous because previously, I worked in a corporate culture where it's mandatory to arrive every day at 8:30 AM sharp. Once we entered Covid, I discovered the magnitude of the benefits of working remotely.   
What I appreciate about a remote role is the time saved from commuting and time wasted physically in an office has now been reserved and dedicated to collaborating with my team. No doors are ever closed (physical or virtual), and everyone is a message away, ready and willing to lend a hand. As someone who is growing their career in the fintech space, you need as much support as possible. The remote culture of our team offers us the flexibility to help each other. We lean on project management tools to help our team's communication, so remote work feels supported and collaborative.
 
What are your hobbies? Anything else you would like to add?
Unfortunately, I have a list of unfinished hobbies because starting a new hobby is my hobby. Lately, I've dedicated time to exploring recipes and cooking techniques with friends. Cooking is one of those hobbies that can be interoperated in any way you want. I like to stretch my creative side of cooking and create unconventional recipes. Last year I made an impressive 11-course meal for some of my closest friends, and I dare to share it was a hit. My goal before the end of 2023 is to try every single independent coffee shop in Toronto. 
 
What do I do with my caffeinated energy? For my physical health, I'm a fan of hot HIIT Pilates – a great counterbalance to the workday grind. However, I often find myself reminiscing about the days when I lived in BC and had the opportunity to hike beautiful mountains during the weekends.