10 Best Businesses for Cash Flow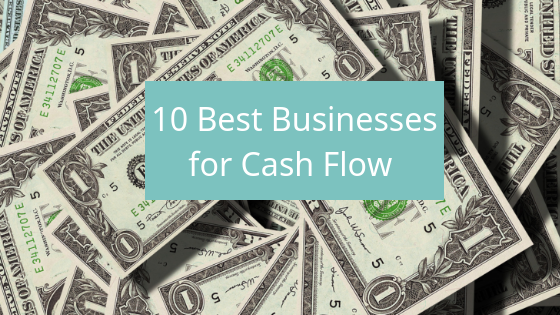 Here at Forwardly , we wanted to know too. So, we did a little digging. Because there are so many factors that affect the success of any business, we wanted to be as objective as possible, which is why we've listed the businesses below in alphabetical order.
You may also see a little crossover as of the industries mentioned can be franchises or home businesses. As you know, in business as is life, nothing is perfect or perfectly black and white.
1. Franchises
Franchises, especially popular, well-recognized ones will pull in cash right from the start. In addition to ready-made brand awareness, the business models have also been perfected to drive sales while controlling costs.
If you're instantly thinking of workers in uniforms selling french fries, know that owning a franchise doesn't mean owning a restaurant. While fast food is a mainstay of the franchise industry, there are many options ranging from commercial cleaning and personal fitness to express shipping and financial services.
The initial cost of purchase is the main downside to franchise ownership. Buying a brand-name franchise comes with brand-name pricing. But, once you've made your investment, as long as you follow the "playbook" you should be able to sustain a stable cash flow.
2. Finance and insurance
Independent insurance companies and financial advisors enjoy a stable, year-round cash flow, without the extreme seasonal peaks and valleys experienced in other sectors. Insurance brokers and financial advisors require training and certification, but after this outlay, they are able to operate with little overhead.
The insurance and financial products offered by brokers and agents are often produced by third-parties that have invested in the product development and marketing of these items. Some insurance agents and financial advisors also purchase franchises from financial services companies.
3. Health care and social assistance
As Baby Boomers age and enter retirement, there's a growing market for senior care facilities, nursing homes and rehabilitation centers. Because demand currently outstrips supply in these areas, privately owned business in these categories are able to maintain a strong cash flow, even in the face of significant labor and facility costs.
Want better cash flow? Learn how to read a cash flow statement.
4. Home-based businesses
Low overhead and tons of flexibility? A home-based business might be your best bet. In terms of cash flow, child care and pet care generate consistent returns, especially if you have long-term arrangements with customers.
Project-based home businesses, like event planning or other professional services, require consistent invoice and payment practices. As long as you have a good client base and your pricing high enough, your cash flow will be on solid ground.
5. Niche restaurants
While it's common to hear cautionary tales of the razor-thin margins for restaurants, localized, independent restaurants, cafes and food trucks are able to buck this trend. They are well-targeted businesses with consistent, loyal customer bases.
Niche restaurants are one area where it pays to be highly specialized. In addition to demand, these owners also have to carefully manage food and labor costs. But, when financing is needed, these businesses also have plenty of access to alternative funding sources.
6. Real estate rental and leasing
Like other businesses on this list, real estate rental and leasing only involve an initial cash outlay. Once you purchase the property, you can then lease it. When leasing at competitive rates, private real estate rental and commercial leasing both provide a stable cash flow.
This is a simplistic overview of a property rental business. Like any other business, operational costs, such as maintenance and administrative costs have to be kept under control. This industry is also susceptible to interest rate hikes that can eat away at profit margins.
See how analytics and insights help improve financial health.
7. Retainer-based professional businesses
Professional services like marketing and advertising agencies, law firms and real estate agencies often based their business on a retainer model. When clients pay a retainer, they agree to pay a set amount, in regular intervals, up front for the services provided.
Because of these stable payment terms, these professionals can better ensure a consistent cash flow. There are interruptions in cash flow when a client either ends their contract or defaults on a payment. However, many of these companies are aware of this risk and take measures to make sure they have a healthy flow mix of clients in the pipeline.
8. Regulated industries
What is a regulated industry? It's a type of business that's heavily regulated by the government, including things like oil and gas exploration, utilities and the energy sector. It can also be specific types of manufacturing and transportation, such as making cars or running an airline.
Producing e-cigarettes, a self-driving car or revolutionary new biotech material to help burn victims? This is you too.
Due to the sheer amount of oversight, the businesses that enter these spheres and outperform the limited competition, tend to do well. As do the businesses that work with them. Of course, the key is knowing your industry, complying with the regulation and operating efficiently within your specific business model.
9. Software as a Service (SaaS) companies
Have you noticed that more and more business services are being offered through the cloud? Rather than a meteorological phenomenon, in this case, the cloud means the internet.
Web-based applications are less expensive to produce because they require few raw materials (other than talent, foresight and determination) and they can leverage the existing online infrastructure. Most SaaS applications also use a subscription-based model, which ensures a consistent stream of recurring income. (As long as the pricing is set accordingly.)
If you like to be in the know on industry trends, here's a fun factoid: By the end of 2017, 94% of SMBs in the United States were using SaaS applications. Some familiar SaaS names include QuickBooks Online, Sage, Xero and other online accounting apps that you can access from your desktop or mobile device.
10. Service businesses
For the purpose of this article, service businesses include more of the trades, as opposed to the professional services listed earlier. This isn't meant as a slight to the trades, it's purely for classification and simplification. (Although, some tax laws separate the two as well.)
Like other businesses on this list, in general, service businesses don't require huge amounts of capital investment to get started. Or, if they do, this only has to happen once or predictably on set timeframe.
Once a service business, like a landscaper, contractor, commercial or domestic cleaners or any other, establishes a solid reputation and loyal customer base, their cash flow is also reliable. In fact, those with the best reputations for quality can often charge slightly higher rates in order to further boost their income.
Here's one more fact: Personal care services, ranging from massage therapy to any form of wellness or custom services are some of the fastest growing industries based on employment.
What if you aren't in the top 10 for cash flow?
As you read the list, you probably saw some common factors, like low overhead and steady revenue. If your industry's not on the list, there's no reason for doom and gloom. What you can do is take a look at your own operations and see how to create efficiencies.
Another crucial step is monitoring your cash flow. This is where we come in. Forwardly offers cash flow forecasting, created specifically for SMEs and the accountants and bookkeepers who assist them.  It's as easy as connecting your accounting software to your Forwardly account.* With easy-to-read charts and graphs, you'll be a cash flow guru in no time.
Improve your cash flow instantly, so you don't have to worry about it 24/7. Forwardly simplifies cash flow management, so you can do it all from one place. Amplify your business cash flow and bring certainty to your business's future. Sign up now for free.
This article is intended to be informational only and does not replace the expertise that comes from working with an accountant, bookkeeper or financial professional.
Image via Pexels.