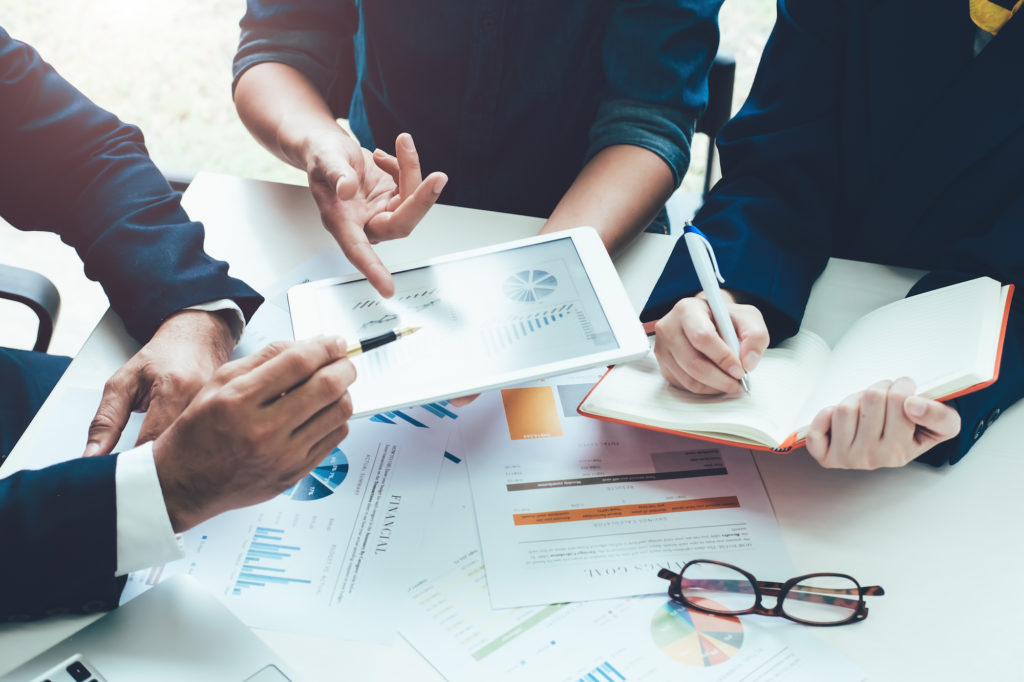 The dictionary definition of information is: "The communication or reception of knowledge or intelligence." The information we take in every day helps us make sense of the world. The same is true of your business financial information. The challenging is gathering the right data and applying it in the most constructive ways.
While a growing number of small to medium-sized enterprises (SMEs) use accounting software to track financial information, the real value is taking this information and making it more meaningful. One of the most vital tools for making financial data more intuitive is cash flow forecasting via tools like the ones provided by ForwardAI.
In conjunction with the right tools to manage cash flow, businesses also need cash flow consulting from accountants aiming to add greater value to the services they provide. Every business owner understands they have to comply with many levels of business legislation, like taxes. But, they also want to know how to make better short- and long-term business decisions.
Why cash flow consulting is crucial
Study after study has shown that cash flow issues are one of the main reasons businesses fail. According to JPMorgan Chase, most small businesses only have enough of a buffer to cover 27 days of expenses.
In order for a business to succeed, it has to understand exactly how money is moving in and out of the business. It has to know when customer payments are received and when vendor payments are due. As simple as this may sound, it's actually easier said than done.
While accounting software is genuinely useful for capturing data, the real opportunity comes the tools for interpreting this data and making it more meaningful for the end user — the business owner.
Cash flow management starts by creating forecasts. It's further improved through cash flow consulting provided by a professional accountant with the expertise to explain concepts, like the difference between cash flow and profit, and help set and evaluate goals.
Information overload vs information empowerment
The struggle is real. According to IBM, 2.5 quintillion bytes of data are produced every day. A single copy of the New York Times contains more information than the average 17th-century Englishman would have encountered in his entire lifetime.
However, a 2016 study by the Pew Research Center, indicates that people have learned to live with increasing amounts of data and are accepting it as the norm. In fact, 67% (nearly two thirds) of respondents said that having more information at their disposal actually simplifies their lives.
SMEs who review their cash flow only once a year have a meager 36% survival rate after five years. Those who monitor cash flow on a monthly basis have a staggering 80% survival rate.
Truth: When we need to know something, most of us "Google" it. But, how do you make analyzing cash flow as easy as an online search?
Cash flow forecasting — there's an app for that
One of the largest areas of growth for accounting software, especially cloud-based, online versions, is third-party applications (apps). These apps work with the accounting software to add greater functionality in terms of gathering and analyzing data.
ForwardAI's cash flow forecasting tool helps SMEs and the accountants who serve them turn financial data into a highly visual, intuitive and near-real-time report.
Currently integrating with QuickBooks Online (with future integrations to come), ForwardAI's cash flow forecast uses data visualization to take raw financial information and translate it into an interactive dashboard that breaks down a business' cash flow and risk profile.
Why spreadsheets don't work
Humans are visual learners — 90% of the information transmitted to our brains is visual. In terms of visual impact, most spreadsheets just don't cut it.
According to big data expert Bernard Marr, the problems with spreadsheets are that:
People don't like them.
Key data is often hidden.
They're challenging to interpret.
They don't lend themselves to showing historical trends.
They're hard to share.
Why data visualization makes all the difference
Data visualization literally lets you picture and interact with your data. For example, ForwardAI's cash flow dashboard helps businesses drill down through their cash flow data in order to:
Clearly identify patterns and relationships in terms of:

Accounts receivable vs accounts payable
Sales vs profit
Income vs expenses

Get a clearer perspective on:

Cash flow
Risk profile
Overall financial health
Seeing is believing
Which information is more powerful? The spreadsheet or the visuals? This is the value of cash flow forecasting using data visualization.
How cash flow consulting helps accountants deliver greater value
"Every financial cycle is an opportunity to sit down and set goals and project numbers forward with your significant clients. Looking forward is not only important, but often essential to identify and avoid any looming business issues or, more positively, for identifying new opportunities too."
—Richard Francis, AccountingWEB
As more and more data entry and compliance tasks are automated, accountants will have more time to apply financial data. Accountants are already viewed by entrepreneurs as their most trusted advisors. Cash flow consulting builds upon the advisory role by providing talking points for regular check-ups and the groundwork for better decision-making.
Cash flow consulting benefits both the entrepreneur and the accountant by:

Educating and empowering the business owner.
Underscoring the accountant's expertise and advocacy.
Which businesses need cash flow consulting the most?
Every kind of business, but more specifically small to medium-sized businesses (SMBs) who live and die by the cash flow they earn from the sale of goods and services. This means startups, freelancers, microbusinesses, manufacturers, retailers and any type of "-ers" you can think of.
How cash flow affects risk and credit
Cash flow is a measure of a business' ability to meet its short- and near-term financial obligations. How well you manage your cash flow indicates how well you manage your business overall.
Prospective lenders and business partners who do their due diligence will want to know if you're in good standing, before establishing the terms of any agreement.
A cash flow forecast from ForwardAI includes a risk score, ranging from 0 to 100, that reflects the key indicators used to monitor cash flow. It's a number you can use to evaluate the financial health of your business and how others view you as well.
What businesses need from a cash flow forecasting tool
By comparing reviews of other cash flow applications, ForwardAI has found that SMEs and accountants are looking for a cash flow forecasting tool that's:
A timesaver — Our algorithms do the work so you don't have to.
Easy to use — Just connect your QuickBooks Online account to your ForwardAI account.
Cost-effective — Our cash flow forecasting tool is free.
Risk-free — We use the highest standards, including 256-bit encryption, to protect your data.
Beneficial to the bottom line — Our dashboard gives you the insights you need to optimize cash flow and make better decisions.
Ready to give ForwardAI's cash flow forecasting a try? Sign up and get started today.
The information in this article is not financial advice and does not replace the expertise that comes from working with an accountant, bookkeeper or financial professional.
Image via Shutterstock.