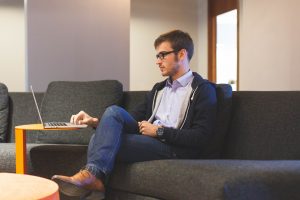 There is no denying the fact that millions of small business owners all over the USA are struggling due to the COVID-19 outbreak. As thousands of stores, restaurants, salons, theatres and other businesses have closed their doors to customers, many startups and SMEs have seen a dramatic drop in revenue and millions of Americans have lost their jobs. And possibly most disconcerting of all, is the uncertainty of when will the pandemic end. The good news, however, is the financial reprieve of small businesses from the federal government.
If you are one of US small-business owners facing tough times because of the Coronavirus pandemic, you've probably know about the Paycheck Protection Program Loan launched by the U.S Small Business Administration on 3rd April under the Coronavirus Aid, Relief, and Economic Security Act (CARES).
The maximum loan amount under PPP loans can be 2.5 times the average monthly payroll costs at a fixed 1% rate and maturity of two years. PPP loans may also be forgiven if the business follows the criteria outlined by the SBA.
One of the biggest challenges for many small business owners is where and how to apply for a PPP loan. Though you can apply through existing SBA individual lenders such as banks, credit unions, and online lenders, but the question is: "what is the easiest and fastest way to get a PPP loan?
You could try submitting your PPP loan application yourself by reading SBA guidelines or the provisions in the CARES Act. Also, you can apply through an approved SBA 7(a) lender –but, imagine a scenario where there's a postponement or you're denied because of missing and erroneous data.
Using an online lending marketplace is an efficient, streamlined way to apply and receive a Paycheck Protection Program loan –here's why.
What is a Lending Marketplace?
An online lending marketplace is a sought-after alternative to secure a traditional loan from many of its counterparts such as banks, credit unions, and other financial institutions. It uses online platforms to connect borrowers with investors willing to offer loans. Over the last few years, online marketplaces have reinvented how lending can take place. Marketplace lending is made possible by Financial Technology (Fintech) that uses several scoring algorithms to determine the borrowers' ability to repay.
A simple way to understand a loan marketplace is to use a travel analogy. You will feel the same experience as you feel using Booking.com or Tripadvisor. You choose a destination, travel dates, and any other important information, and then compare and choose hotel prices in just a few clicks from multiple providers in one place.
Similarly, you will fill out a single application and then a highly intuitive algorithm finds the best loans and lenders for you. You can explore and evaluate the loan options, and choose the one that best fits your business financing needs. A great lending marketplace such as ForwardAI Predict also offers top-notch customer service, where our financial consultants work with you one-on-one to answer any question, gather the proper documents, fill out the application form and help select the best loan option.
Why You Should Use An Online Lending Marketplace To Get A PPP Loan?
If your business situation is urgent due to COVID-19, quickly getting a Paycheck Protection Program loan may be your priority. While traditional banks and credit unions are offering PPP funding under the SBA guideline, getting a loan from them can be as dreadful as getting a tooth pulled. The paperwork and application process is tedious, time-consuming, and inefficient and you have to wait for weeks or months to get your loan approved.
Thanks to digital lending that has resolved many of those difficulties and made business lending safe, easy and quick. You can apply and get a business loan from a lending marketplace such as ForwardAI Predict with just a few clicks on your smartphone or laptop. After you submit the application form, the software will immediately connect you with several approved SBA (7) online lenders. We're partnered with many top alternative lenders who will help you connect and seamlessly apply and get PPP loans through ForwardAI Predict online marketplace.
Online Lending Marketplaces Deliver Funds Faster and Easier
An online lending platform is way faster than many traditional methods of business financing. It takes only a few minutes to successfully apply and approve for a business loan. Besides that, it's also much more comfortable and less burdensome for borrowers.
Most small business owners are not tech-savvy and financial professionals, so understanding the complexity of PPP and its requirements may not be their forte. Online lending marketplaces like ForwardAI Predict have a team of dedicated loan consultants who are committed to helping you understand the program, answer important questions, gather documents and seamlessly get the loan.
Companies are working remotely, shuffling finance changes, and innovating their business systems due to Coronavirus. So why not utilize an online lending marketplace to offer financial flexibility and robust alternatives? You can quickly compare multiple banks and lenders that can help you find options that will distribute your PPP loan quicker.
If you are struggling to get a PPP loan for your small business, use ForwardAI Predict marketplace to complete and submit your loan application. Wipe out any confusion or misinformation about the PPP by utilizing an online lending marketplace.
Image Via  Pixabay