Push functionality is live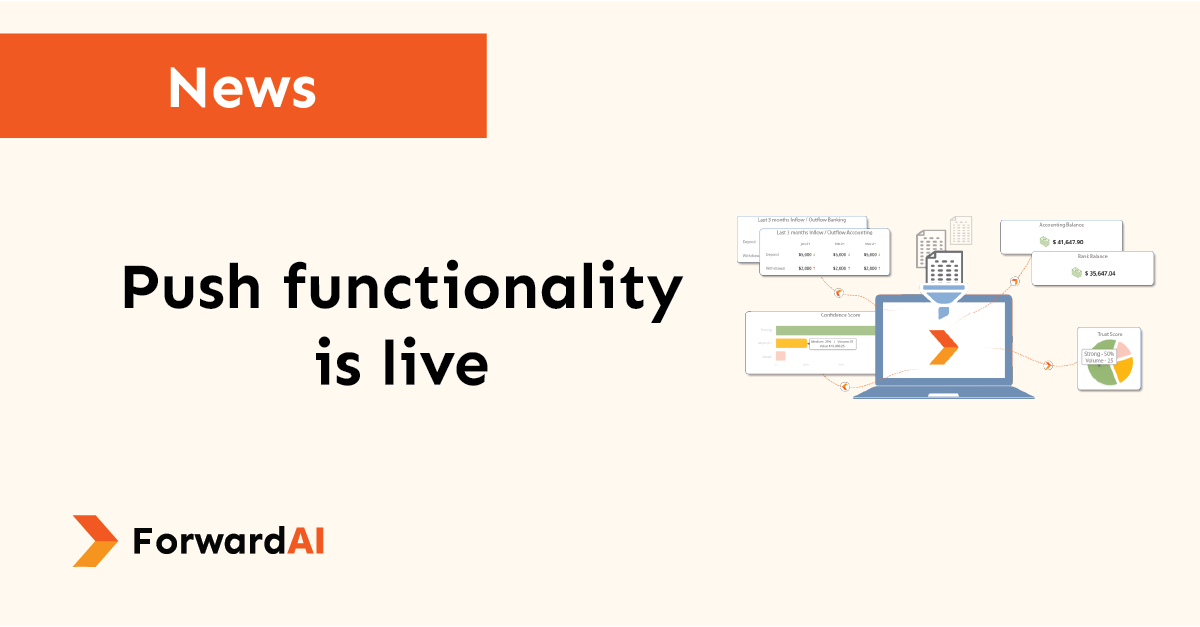 Auto-create & update: under one umbrella, expand your business suite by managing diverse activities with a seamless flow of data.
We're excited to announce the first live release of the ForwardAI Precise API's Push functionality. Financial institutions can now deliver new services, build deeper relationships, and drive higher engagement with small business clients using this new feature. They can also offer value-added services that act as competitive differentiators and assist in attracting and retaining small business clients. 
While many will be familiar with the concept of "Pull" technology –or the ability to grab data from providers such as accounting software platforms– "Push" technology can simplify and organize the process of data management by sending information to these providers. Business activities such as expense and income tracking, loan repayment installments, lease payments, utility bills, and more can be automated with our API. 
How to utilize Push functionality
Push technology can play a significant role in giving financial institutions a sharp edge in enhancing customer experience and loyalty. Automating the creation and update of financial data mitigates business errors by substituting manual labour with artificial intelligence. It can also save time by removing the need for skilled employees to complete simple data entry, reducing staffing costs. With our API, business data or transactions such as income, expenses, or specific payment data types can be synced with the accounting data source in only one click.
Simple use cases include:
A financial institution can create, insert, or update data directly into a client's permission-authorized accounting software.  
A bill payment company can update the bill due date, bill payment date, description, or any additional elements of activity from their platform to denote the actual status of a bill.  
Spend management businesses can use the technology to ensure that bill or expense card expenses are always coded correctly in a general ledger (GL).  
While many businesses are wary of sharing a complete GL with employees, our API's Push functionality allows a financial partner to expose and enable coding to only specific accounts. 
The Push process can be automated so updates will be accurate and the chances of mistakes are minimal. Invoices will always be created with correct customer names, addresses, and more.  Bills can be scheduled to both be paid and have the status updated within the books to avoid potential late fees commonly caused by missing a due date. 
The Push functionality in our REST API is highly configurable, robust, and flexible enough to be aligned as per a clients' requirements. Our technology enables a financial institution to create a new record (POST) and/or update an existing record's (PUT) data in the accounting software most commonly used by small business clients. 
Currently, Push functionality is available for limited accounting data sources, and we are working towards expanding support to more accounting solutions. Follow us on social media or subscribe to our newsletter to keep updated on the newest developments with ForwardAI.