ForwardAI Disrupts Small Business Lending with PreciseMatch™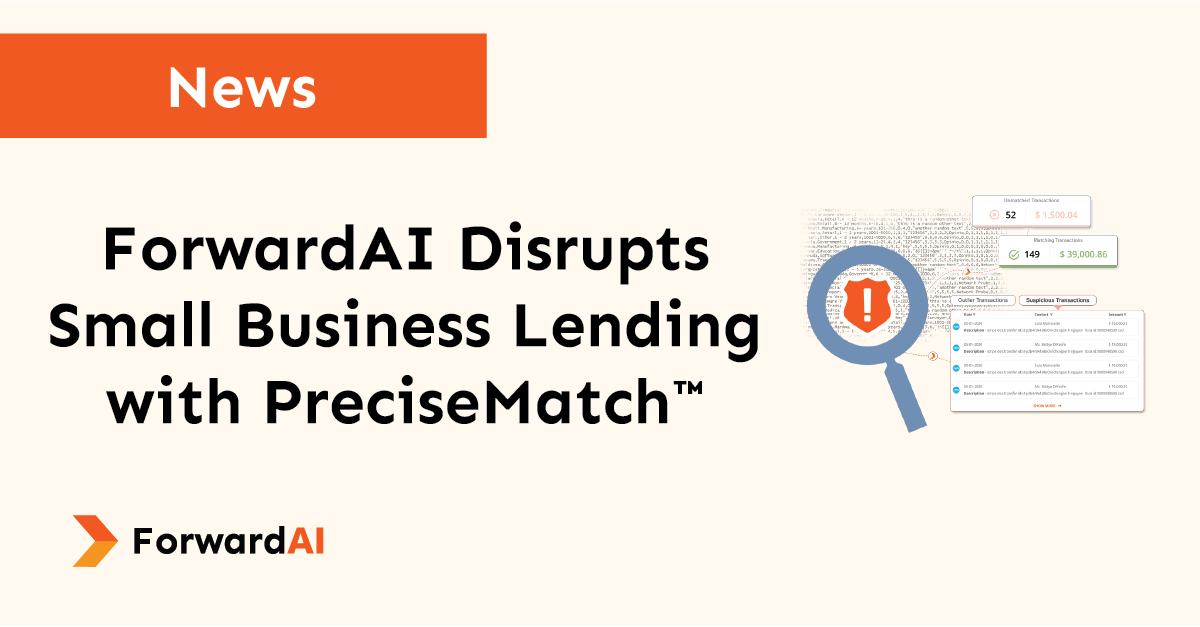 Financial institutions, lenders, and fintechs now have a Precise way to catch accounting data fraud.
Fraud, the bane of anyone in financial services, grew during the pandemic. Financial institutions and alternative lenders found themselves overwhelmed with financing applications, many of whom included suspicious transactions. But with most institutions relying on manual verification or home-grown red flags, many underwriters faced significant backlogs. The team at ForwardAI saw the constraints of the current system and have come together to find a solution to a critical area of concern expressed by banks and lenders: accessing deep insights from accounting data by validating it against secure and trusted banking software.
Today, we announced the release of our newest Precise API feature.  
PreciseMatch™ is a state-of-the-art intelligent API technology solution designed to fix data reliability issues in traditional business lending. Using an amalgamation of machine learning algorithms, statistical analysis, NLP, and custom-made rules, it intelligently identifies matching transactions in accounting and banking data and identifies suspicious activity. Each transaction is mapped and given a Confidence Score which tells us how sure we are in verifying a particular transaction as genuine. The higher the score, the more likely it is that the transaction is validated. 
After Confidence Scoring, PreciseMatch analyses the data and identifies all outlier and suspicious transactions. These are pinpointed using unsupervised machine learning algorithms based on various artificial intelligence features. Financial institutions or lenders using PreciseMatch can manually review highlighted transactions to ensure they are real or create system event thresholds within the API to automatically deny untrustworthy borrowers. 
PreciseMatch is an intelligent technology designed to simplify small business underwriting utilizing accounting and banking data. This technology can drastically reduce the time taken for underwriting; while also identifying potentially fraudulent transactions.