Meet the Team: Nick Chandi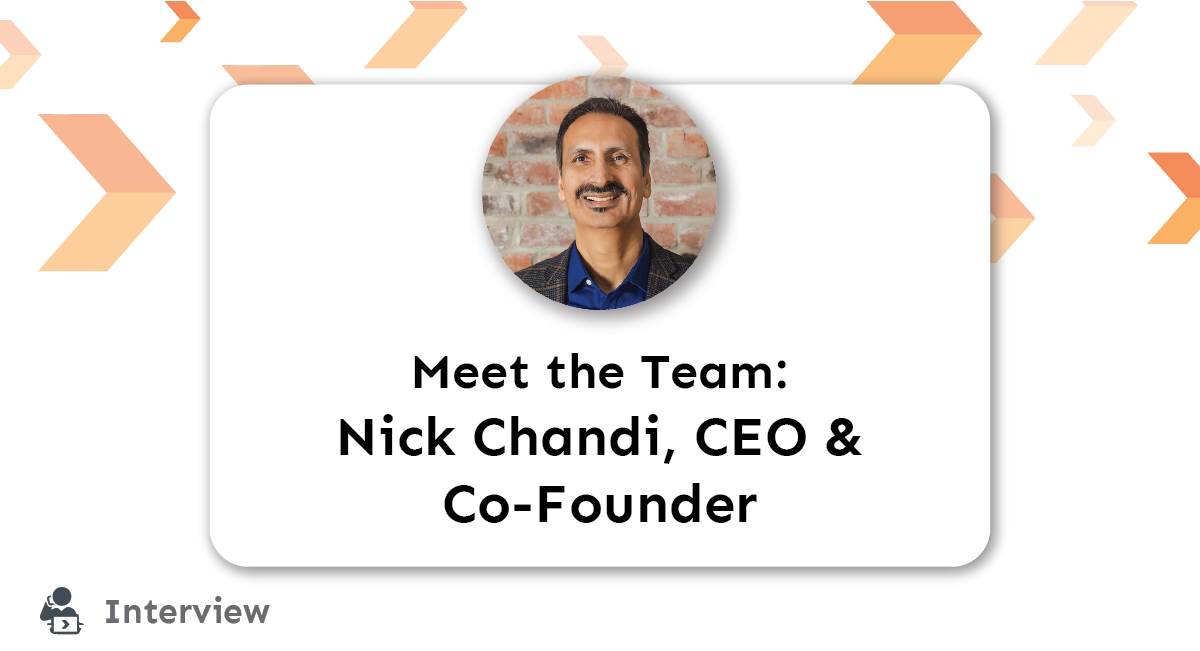 This time on our Meet the Team blog, we're going to interview our CEO and Co-Founder, Nick Chandi. As one of our three co-founders, he's been with ForwardAI since before the beginning.   
What's your background and experience with Fintech like?
I have worked in the accounting industry for over twenty years in several different ways. First, I built custom accounting integrations for accountants and bookkeepers, helped them with IT support, assisted them with security issues, and often simply advised them which app to use. With my co-founder Jag Barpagga, we ended up with one of Canada's biggest IT support and consulting companies serving accounting professionals. We sold that company, Welcome Networks, in 2019, just before the pandemic. We also developed an online accounting system, Slickpie, where we served more than 40,000 businesses worldwide.  
Now at ForwardAI, we are on an even bigger mission and building solutions that will enable access to simpler, better, and more cost-effective solutions for small businesses to improve their cash flow.
You have several years of experience as a CEO; what do you think our company's primary mission and vision are?
At ForwardAI, we are building advanced technology that allows our partners to empower small and medium-sized businesses with the ability to easily and effectively manage their cash flow. We are playing an important role in building infrastructure for a world where every small business has the financial tools they need to thrive by providing solutions that are simple, secure, and cost-effective. 
Our goal is to provide solutions that help small- and medium-sized businesses (SMBs) make smarter financial decisions, improve cash flow, and ultimately grow their businesses. We strive to be a trusted partner in the SMB ecosystem to support their financial journey, delivering innovative and reliable solutions that support their success. 
What makes you passionate about startups and/or growing a company? 
My first business during my college years, a garment factory, failed due to poor cash flow planning.  When I reflect on it today, it wasn't the first and will certainly not be the last business to fail due to poor cash flow planning. I learned a lesson from that failure and later built Welcome Networks, from which I had a successful exit.  
So many small businesses fail due to cash flow problems, and I want to change that. In fact, cash flow is such an important issue for me that we have built a cash flow management app for startups and SMBs, and we provide it for free. I want SMBs to have the resources to be proactive, watch their receivables and payables, and control their expenses by giving them better visibility in our app. If I could save these hard-working businesses from failing by providing them with this visibility and solutions that improve cash flow, I would think I have done my job. 
What do you envision for ForwardAI in the future? 
We are still early in our journey, and there are massive, complex cash flow problems small businesses face that need to be solved. Millions of small businesses can't take on new jobs because they can't access funds to buy the inventory on time. Most have to wait for days and weeks for financing approval, often forced to select expensive options like merchant cash advances despite all the innovation in the lending space. Some still miss bills because there is so much going on in their lives, and sacrifice personal credit scores to keep their businesses afloat.  
In the business apps they use, the user experience is poor, and the delight that people feel from using a convenient consumer-facing app like Venmo or Uber is completely lacking in the Business-to-Business (B2B) app space. We used to eat at the restaurant, and now food gets delivered to our homes. We used to visit the bank, but now banking services are available on many apps. When technology apps can deliver groceries within 10 minutes and warm food in 20 minutes, why do payments due to a small business take three business days to appear in their bank account?  
Yes, some progress has been made. But I don't think technology has solved problems for enough small businesses to make a dent. Direct connections by ForwardAI to accounting, banking, and payment systems used by companies will significantly impact businesses and their stakeholders. It will change almost every aspect of their business financials, including how they manage and improve their cash flow. I'm proud and excited to lead the charge for a better future for small businesses. 
Other team interviews: