Meet the Team: Jane Ingram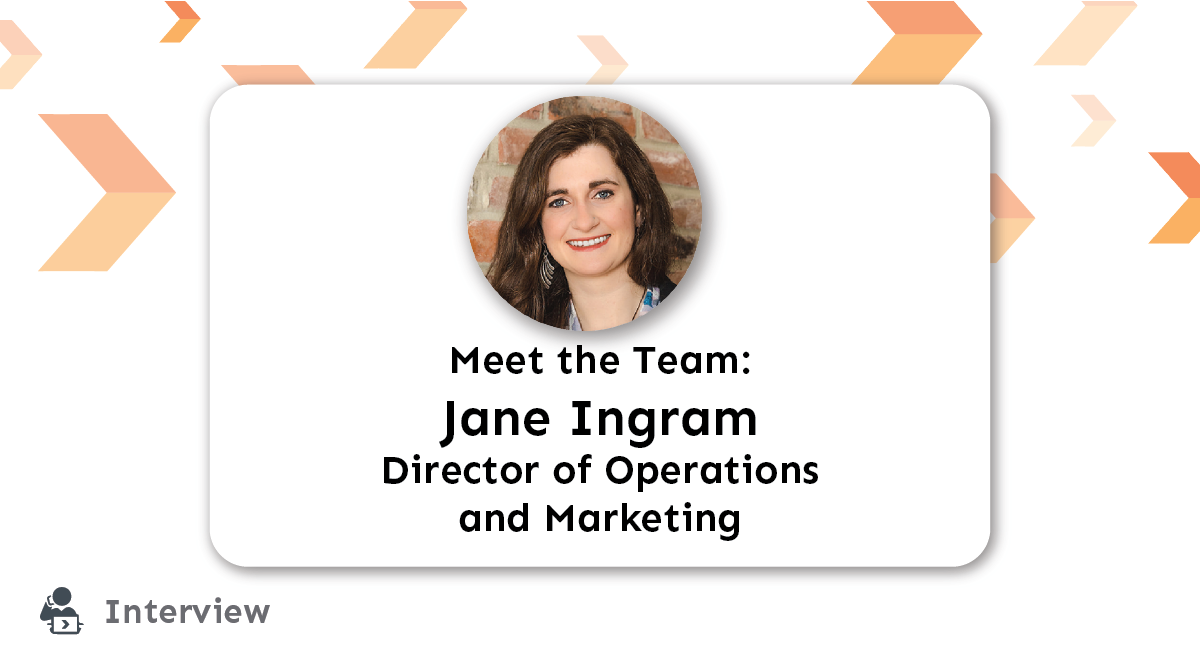 In this Meet the Team interview, we'll interview our Director of Operations and Marketing, Jane Ingram. She's been with the company since it was founded in 2021 and handles many different projects in her role.  
Hey Jane! Can you tell us about your background and experience?
In some ways, I've been working in marketing since I was a child. I grew up working in my family's tax preparation and immigration consulting business, including prepping pre-tax-season mailouts, booking us into local parades, checking our SEO, creating signage, and creating handouts for clients. My father had a daytime talk show on cable and was a frequent guest on local finance radio shows, and I was brought along. From birth, I attended seminars and discussions on accountants, immigration, tax laws, and small business financial health tips.  
I was also instilled with a passion for client support. When computers were still rare in the 90s, we had a custom-made CRM, and I was trained to record all client contact points so that we could refer back and give white glove service. Anything less would get me a lecture!  
In my teens, I joined a local grassroots flashmob group and quickly became the primary coordinator for around 500 people. This was exciting – I was young but already planning meetups, running social media channels, updating the website, and sourcing materials. That was an exciting time, as events would involve me coordinating groups of 20-80 adults.  
After the family business changed ownership, I worked in hospitality and eventually took over marketing for a top-reviewed local bistro. I loved running campaigns and driving traffic to the restaurant. It felt like stepping back into a world I'd left behind. I realized I needed a change.  
I began working as a Communications Manager for a data aggregator called Vizzion, which supplied companies, including Mercedes, Mapquest, and Microsoft, with a traffic camera API. This was my first foray into tech and business-to-business (B2B) marketing. As a niche market with big players, I learned much about the intricacies of working in highly regulated industries.  
Since then, I've gone to the British Columbia Institute of Technology and graduated with Distinction in Marketing Management Communications and Customer Relationship Marketing. I worked for several years as a Marketing Administrator for an industrial manufacturer that supplied boilers worldwide and as a freelance Digital Marketing Consultant for several local businesses.  
In late 2020, I met the founders of ForwardAI and was brought on to run the Marketing team. It's been a blast ever since! 

You have grown a lot with ForwardAI from the company's opening until now and were recently promoted to Director of Operations and Marketing. What do you see in the future for ForwardAI? How do you feel about being part of the success of a start-up? 
Most companies I have worked for were small and required me to wear many hats. ForwardAI stands out as unique, with notable career growth, thanks to the unwavering support from CEO and Co-Founder Nick Chandi. Although just a small part of the company's success, I am proud of my team's accomplishments and the colleagues I work with. 
As for the future, I think good things are ahead as we work on innovative features for Forwardly aimed at enhancing the lives of small businesses and accounting users. 
How do you like to destress after a long workday?  
As a self-proclaimed workaholic, I struggle with balancing work and life but find solace in spending time with loved ones. To unwind, I enjoy reading various genres of novels, including historical fiction, sci-fi, mystery, and fantasy, and I aim to read two books per month. Being a fan of movies and television, I created a home theater during the pandemic and love watching new releases with friends and fresh popcorn. My other hobbies include PC gaming, gardening, taking my cats on walks, and rock climbing. When feeling creative, I stitch embroidery or tackle home projects like putting up shelves or upgrading my computer.
What is your favorite part of your role as Director of Operations and Marketing at ForwardAI? 
As an inquisitive person, I have always asked a lot of questions. As the Director of Operations and Marketing, I have quite a bit of responsibility to ask questions, listen to the answers, and then identify whether those answers are good. People around me have often said I thrive in chaos, but I'd like to think I thrive by organizing chaos. When handling Operations, it turns out that that is a valuable skill to have! 
What is the most crucial thing potential applicants should know before applying to work at ForwardAI?  
Skills and experience can be learned and earned. But a good attitude makes you practically indispensable and is much more challenging to teach if it's not there naturally. When hiring for my team, I look for passionate, pragmatic, and proactive people. Mistakes happen; how you handle them will help you stand apart from your counterparts. I believe that the success of one is the success of many, and likewise, failure.