Meet the Team: CTO and Co-Founder Joe Mutti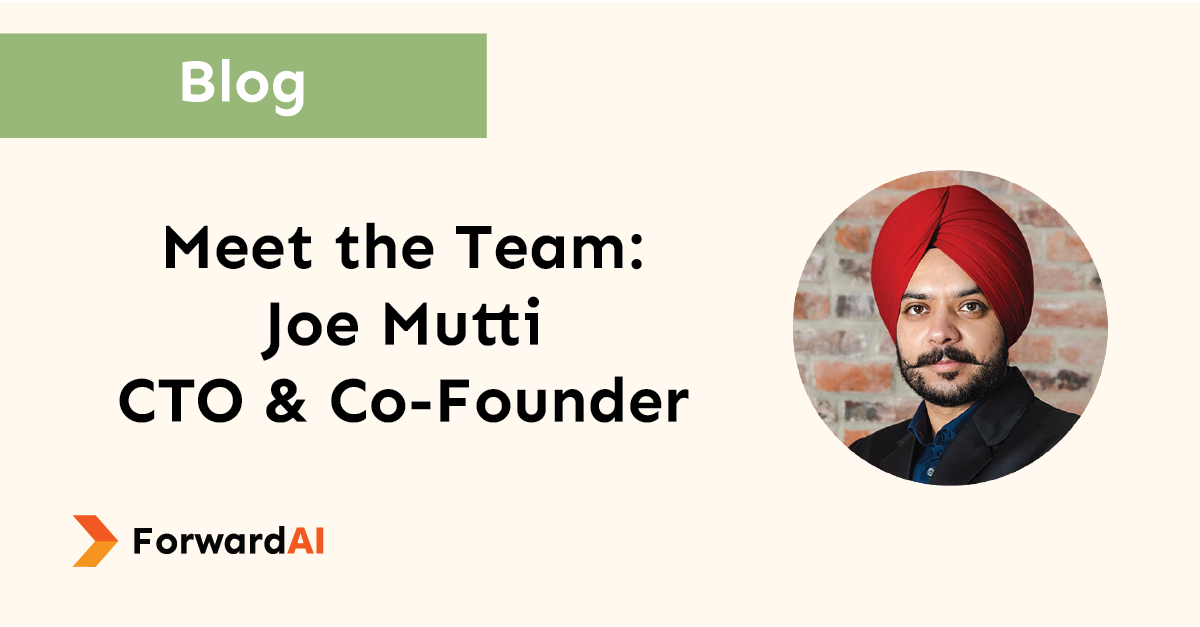 Happy 2022! To kick off a spectacular new year, we're going to be interviewing one of ForwardAI's three founders: Joe Mutti! Joe is also ForwardAI's CTO, and as a strategic software development technologist, he leads the technology development team at ForwardAI.
So Joe, tell us about your background in tech.  
I've been passionate about computers since childhood. From the beginning, I was always interested in both software and hardware. The only hobby I used to have in my early days was learning and building- or at least trying to build something!
I became interested in programming around 14 years ago when I first developed a website for our family business. Later, I built tools to automate previously manual business processes. This gave me exposure to domains like programming, database management, IoT, and networking and gave me real-time hands-on experience in handling production deployments and scalability.
I always had an entrepreneurial mindset; when I was in high school, I used my skills to sell website services. Since then, I have built various platforms for clients in domains like Fintech, Edtech and Healthcare. In 2016 I became involved in blockchain technologies, which fascinated me.
I majored in mathematics and was one of the top students during my Masters in Computers and Applications.
What makes you passionate about startups and/or growing a company?
For a startup founder, the work is more than a job. It's your life and lifestyle. The most exciting part is that you are not just reinventing the wheel. You are actually building something destined to disrupt something that's not as good as it could be. It is a wonderful feeling when it first clicks that there is a better solution to an existing problem, and you realize that you can help make that solution happen.
I am the guy who is responsible for ForwardAI's technology constantly evolving. It's a fascinating place to be. And challenging, preparing for scalability as we rapidly expand. It's always easier to build than to scale, but luckily I love a challenge.
The ForwardAI team is entirely made up of people that are passionate and knowledgeable about the fintech domain, so I get a chance to meet, work with, and learn from incredible minds every day.
What is an average day for Joe like?
I don't think there is such thing as an average or typical day as a CTO of a startup. You are expected to wear a lot of caps or hats. As a Co-Founder of ForwardAI, I am also involved with all the administrative parts of owning a company as well. My day generally starts with catch-up meetings with teams from various departments like Product, Infrastructure/ IT, Development, QA, and once a week, HR.
Some days, I'll be busy attending meetings and workshops. Other days, you will find me putting heads together with colleagues and digging into logs tracking down technical issues. You can see me programming sometimes, but these moments of actually writing code have become very rare, unfortunately.
Other parts of my work life include interviewing new potential team members, giving feedback to my colleagues, listening to day-to-day concerns, and talking to customers to help them seamlessly integrate our solution into their platform.
What are you most excited about in the future of fintech?
There are so many exciting things on the horizon in fintech that I'm not sure I can narrow it down to just one. If pressed, I would say I'm excited about the broad adoption of open finance in North America. After seeing what a difference utilizing a direct data connection makes for companies, I can't wait to see what the world looks like once we reduce our reliance on files like PDFs and spreadsheets.
Big players in North American finance are already seeing the benefits that companies from places that have already regulated open finance have over them. Direct data connections will soon become the industry standard, and I'm thrilled to be a part of that piece of technology innovation.
ForwardAI is hiring; what do you want in most from new hires?
We're aiming to hire 60 new staff in our tech team by the middle of 2022. That's not including positions that might pop up for anyone exceptional we meet along the way.
If you're passionate about building technology, and you can bring something to the wonderful team we have gathered at ForwardAI, you're very welcome here. We want people that will blow our minds during their interviews; sometimes, you just know right away when you're hiring someone excellent. We don't care about your degree or education at all.
Particular skill sets we always need to support product and platform development include MEAN stack, Python, DevOps, QA, Product Managers, and DBA.