Meet the Team: Aaron Mah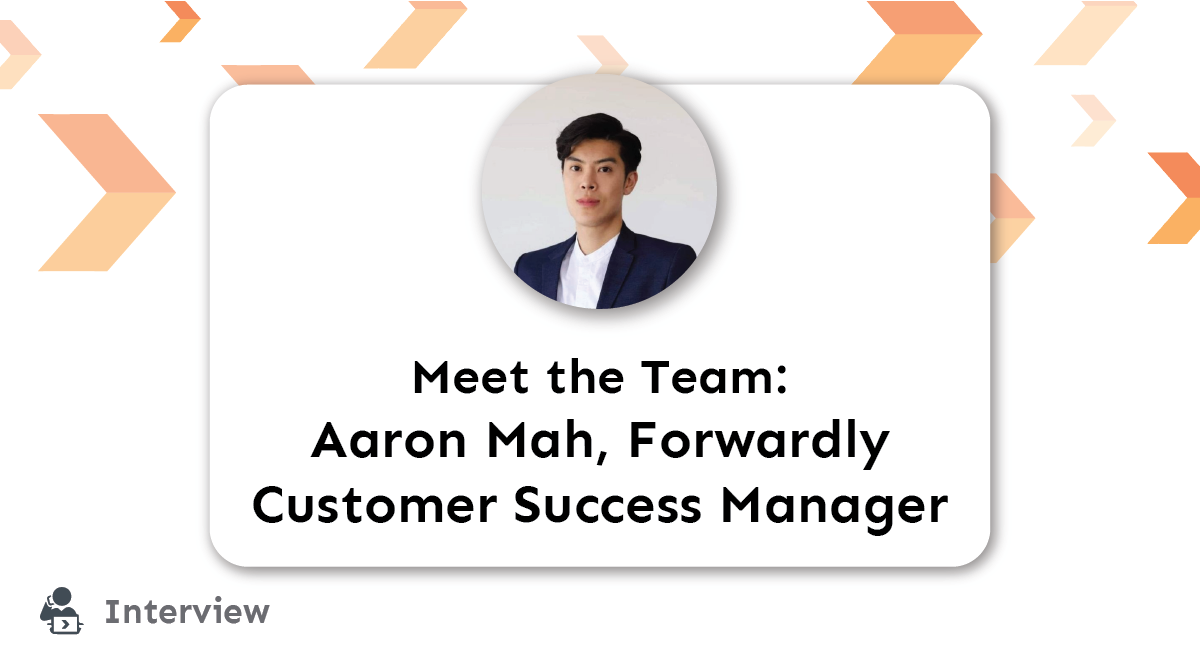 In this Meet the Team blog, we're going to interview Aaron Mah, our Customer Success Manager for Forwardly. Aaron has been with ForwardAI since the middle of 2022 and has helped grow the Forwardly app into the powerful cash flow management tool it is today.
Hey Aaron! Can you tell us about your background and experience?
I graduated from Simon Fraser University's (SFU) Beedie School of Business in 2012 with a concentration in accounting. After, I moved to Los Angeles, where I ran my father's currency exchange business. As the VP of Operations, I oversaw the expansion of six locations, including financing, budgeting, and staffing of our former flagships.
In 2016, I moved back to Vancouver to attend to my mother. During this time, I became the Business Immigration Consultant of S.C. Chan & Company in Richmond, BC. In this capacity, I proactively helped overseas entrepreneurs establish businesses in Canada under the Entrepreneur Immigration stream. We lent our expertise to helping devise comprehensive business plans, forward-looking financials, and effectively submitted all supporting documentation to earn PR statuses for our umbrella of applicants.
As a former immigrant, I developed personal relationships with many of my former clients, where I gained a passion for helping make their transition to Canadian culture as seamless as possible. These relationships would spearhead my first startup. In 2018, I founded FAM International Inc., an import-export company that brokered purchase and sale agreements between Canadian food and pet feed manufacturers with State-Owned Companies in China. We were fortunate enough to grow the company into a multi-million dollar venture within an 11-month time span, where I led the company's financing and sales efforts. Unfortunately, as the COVID pandemic reared its ugly head in 2020, we had to suspend our operations due to restrictions to the global supply chain. I eventually sold my shares to the company in late 2021.
In 2022, I assumed the position of Director of People and Operations at AzureHR. I followed through on my passion for helping small businesses by delivering unique solutions to the fight against perpetual labour shortages that many entrepreneurs and small business owners face by assisting them to successfully identify, screen, and onboard foreign workers.
Later that year, I finally arrived at ForwardAI as the company's Customer Success Manager for Forwardly (previously Predict). Being in the Fintech field is a new and exciting personal challenge, but not a totally foreign one, as I get to speak with and help small business owners and accountants solve quagmires related to their cash flow hurdles, payment needs, and other issues they might face when navigating our platforms.
You don't only have experience in Customer Success; what made you realize that this is what you wanted to specialize in?
As a former business owner myself, I know first-hand just how daunting of a task it is to not only oversee the daily operations of your business but also effectively manage your books and cash flow. As such, when the opportunity with ForwardAI presented itself, it was a no-brainer. Now, I get to follow through with my passion for entrepreneurship and financing while providing a 'lending' (no pun intended) hand and making the lives of small business owners and accountants just a wee bit easier, especially during these turbulent times of high-interest rates and rampant inflation.
As Forwardly's Customer Success Manager, what's one of the most important things a successful department needs?
I view this department as I would as an entrepreneur or small business owner. With every business, communication is the key denominator — this is no different with customer success. While communication is vital, we really pride ourselves on prompt, timely, and transparent solutions. Ultimately, we have a vested interest in helping our clients succeed! If they do well in their line of work while utilizing our platforms, the success comes back in a full circle, where we will reap the benefits of having more users and more word-of-mouth referrals to our brand.
This is our 'invisible hand' of sorts to develop as much support and attention to detail as possible so our users can make a relevant impact and difference while using our services. With the prospects of a recession in 2023 as a primary topic on the minds of many business owners, we aim to make our customer success journey recession-proof and one less thing they have to worry about.