ForwardAI Announces Forwardly Partner Program to Deliver Instant Payments to More Businesses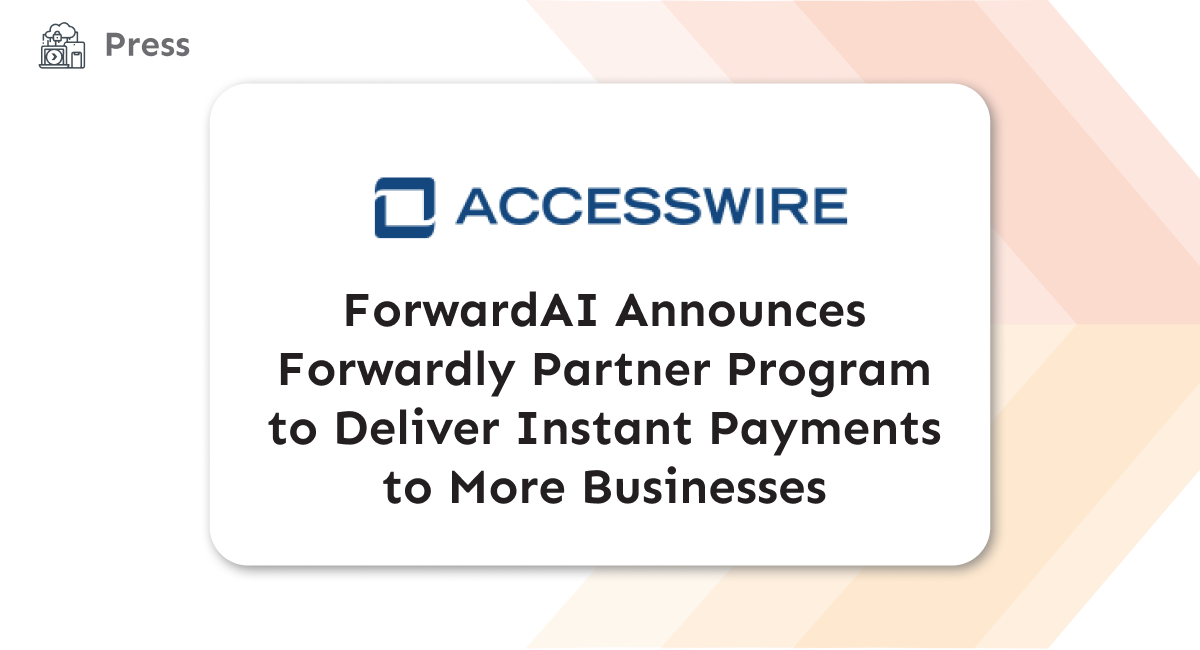 Originally posted on Acesswire.
---
Referral program follows the launch of the first Real-Time Payments solution in the U.S. earlier this month
NEW YORK, NY / ACCESSWIRE / June 26, 2023 / ForwardAI, a fintech providing aggregated direct data access to accounting and ERP platforms, today announced the launch of the Forwardly Partner Program, which offers rewards to accountants, bookkeepers and financial professionals who refer business to Forwardly, the first real-time payments solution for small businesses in the United States.
By joining the Forwardly Partner Program, accountants and bookkeepers can leverage their networks to earn cash incentives, while taking an important step to help modernize their clients' business payment workflows. The program awards $100 for each business that is onboarded to Forwardly and receives $200 through the platform.
Designed to help small business owners and accountants simplify their cash flow, Forwardly integrates with bank accounts and accounting systems, and utilizes instant and automatic reconciliation for leading accounting platforms, including QuickBooks Online and Xero. The platform helps businesses get paid in seconds and is available 24/7 and 365 days a year, eliminating the need to consider bank hours or closures.
"Accountants and bookkeepers are the heart and soul of any business, and they know that without cash flow, businesses fail," said Nick Chandi, CEO and co-Founder of ForwardAI. "Forwardly partners play an integral role in helping businesses unlock the power of instant payments, which helps the business save on payment processing fees and streamline their reconciliation workflows. With our first of its kind solution, businesses can say goodbye to the delays, complexities and costs that come with traditional payment methods like ACH and credit cards."
Forwardly users get paid three days faster than ACH or other legacy payment options and save 60-80% compared to credit card processing fees.
There is no charge to create an account and onboard with Forwardly. For each transaction received through the platform, there is a nominal processing fee of 1% plus $1 per transaction, capped at $10 per transaction, making Forwardly affordable for businesses of all sizes.
To get started, visit: www.forwardly.com or stop by Booth 165 at the Scaling New Heights® conference on June 25-28, 2023 in St. Louis.
About ForwardAI:
Forwardly, the cutting-edge B2B payment solution developed by ForwardAI, is revolutionizing how small businesses receive payments. The real-time payment-enabled platform empowers small businesses to get paid three days earlier, 24/7/365. With Forwardly, businesses and accountants gain the power to manage their cash flow through instant payments effortlessly, ensuring quicker access to funds and eliminating unnecessary processing delays and high fees. To get started for free and start experiencing the future of B2B payment solutions, visit Forwardly.com.
Originally posted on Acesswire.