Four Banking Industry Trends to Look Forward to in 2023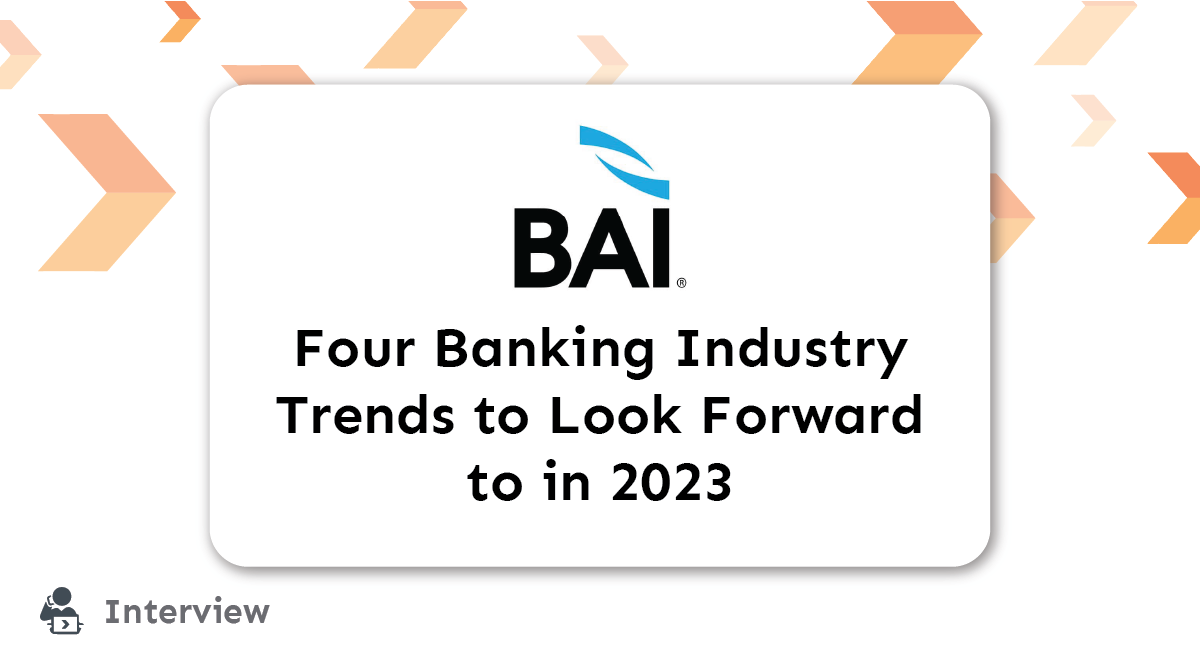 Originally published on BAI.
Seen in the crystal ball are advances in open banking, more real-time payment options, a greater focus on SMBs and deeper collaboration with fintechs.
The new year is setting up to be an exciting one, with major movement on essential regulations, competition entering the instant payments market, and a renewed focus on small businesses that need all the help they can get amid supply chain disruptions and skyrocketing inflation.
Here are four banking industry trends that we see gaining momentum in the U.S. in 2023:
Open banking: In October, the Consumer Financial Protection Bureau released its proposals and alternatives to implement Section 1033 of the Dodd-Frank Act, which pertains to consumer data rights. The CFPB is seeking stakeholder feedback on its discussion guide to bolster consumer access and control of personal data before it issues a formal rule in 2023 that would be finalized in 2024.
Formalizing open banking in the U.S., which is mostly industry-driven, would put the country on track with Canada in following Europe and the U.K., where open banking ecosystems are regulation-driven. Government rules would also encourage competition and partnership among and between FIs and fintechs to provide better consumer services and protections.
Real-time payments: The Federal Reserve is finally gearing up to launch FedNow Service, its active real-time payments network. Currently certifying, testing, and finetuning via a pilot program with more than 120 organizations, FedNow will likely launch in mid-2023.
The Clearing House's RTP Network has seen its volumes grow more than 10% per quarter for every quarter dating back to 2018. It handled 45 million transactions valued at $19.7 billion in Q3 2022. With the launch of FedNow, we can expect increased competition and adoption of real-time payments across the U.S.
While peer-to-peer transactions are likely to be popular, businesses can also use instant payments to help with cash flow. RTP transactions are set to grow 300% globally over the next five years, potentially becoming the new standard for banks, fintechs and businesses to move money.
Small-business focus: Small and mid-sized businesses are the bedrock of the American economy, but they are often overlooked and underserved by large financial institutions, many of which are outfitted with legacy tech stacks that limit the agility and specialized care that has allowed fintechs to succeed in the space.
Banks and credit unions must regard fintechs as collaborative partners rather than disruptive competitors. Supply chain interruptions and high inflation have some businesses in a tight spot. Banks with SMB clients should consider expanding their roster of value-added offerings by teaming up with fintechs to streamline essential SMB services like:
Cash flow-based lending. APIs can help lenders can look directly at an applicant's accounting and cash flow history to make better lending decisions.
Cash-flow forecasting. SMBs can use historical data to predict money inflows and outflows over various periods, and test different scenarios to identify potential gaps and solutions.
Auto-reconciliation. Bookkeeping can be streamlined with APIs that push banking data into an SMB's accounting system for real-time information.
Proliferation of fintech tools. Technology has made business administration and banking easier, especially for those whose budget and capacity are tight. Whether to manage payroll and benefits, track employee expenses or chase invoices and payments, there's a range of niche tools and services that can elevate a business.
For example, consider Gusto, which simplifies human resources functions by automating taxes and workers' compensation and helping with health benefits and employee 401(k) accounts. Why spend precious resources doing administrative tasks when a bevy of fixes are readily available?
One of the reasons SMBs don't use solutions like Gusto is that they don't know they exist. Banks and fintechs need to better educate their SMB clients about the usefulness of these kinds of tools through seminars, value-added services and devoted client relationships to increase adoption that translates to revenue and innovation.
For most of these trends, the train is already in motion — all that's left is for it to arrive at the station. While the government pushes onward on two tracks with FedNow and open banking, fintechs and financial institutions will drive forward with a collaborative spirit that benefits small businesses and gives them the tools to succeed in an increasingly volatile economy.
Originally published on BAI.