A Complete Guide to Small Business Term Loans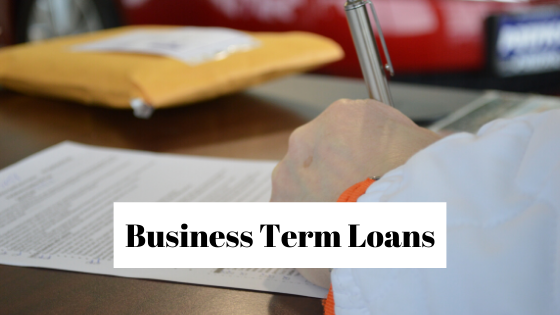 If you're one of the millions entrepreneurs who have been searching for a simple funding option to achieve their short and long term business goals, you may consider applying for small business term loans.
What is Small Business Term Loans?
Also called "Installment Loans", a traditional term loan is a one-time lump sum of cash that your business then repay over time in schedule installments with a fixed rate of interest. These loans can be either short or long term that's is available for both start-ups and established companies.
Whether you want to purchase equipment, invest in real estate or finance your day-to-day operations, getting a term loan is the stable and flexible way to get more working capital, build your credit, and push your business to the next level. A term loan is offered by traditional banks, credit unions, and online lenders.
Features of Term Loans
Security
The term loan requires a business to provide the lender with some type of collateral.
Maturity 
These loans are generally repayable over a period of 5 to 10 years in installments.
Interest
Though the interest rate is fixed in term loans, the borrower can negotiate the interest rate with the lender at the time of dispersing a loan.
Funding Time 
As fast as 2 days
Qualification Requirements
It's important to remember that business term loan is not for everyone. Businesses with a good credit score, a robust business plan, great annual revenue, and a good operating history are the kinds that lenders want to invest in.
However, what is required truly varies depending on the lender. Besides that, what interest rate, maximum amount and length of the term you will be qualified for truly depends on your business revenue and credit rating.
Though qualifying for a traditional term loan involves a few different factors, the following are some that matter the most:
Business History
Being in business for a minimum of 1 year
Credibility
Must have a minimum credit score of 680
Annual Revenue
$100,000+ in annual revenue for your business.
Business Type
Must be Profitable (or a positive net income)
While these above factors play an important role in getting a term loan for your small business, it's not the only thing considered when making approval decisions. Depending on the lender, there are many different things that can affect your eligibility. So, it's vital to discuss your requirements with your lender and determine what works best for your small business.
How to Apply For a Business Term Loan
The first and foremost thing you need to find to apply for a business term loan is a lender. Gone are the days when traditional banks were the only option, there are now several online term loan lenders, like Funding Circle and Opportunity Fund, that offer term loans at a reasonable rate. While traditional banks are known for the complicated loan approval process, alternative lenders use various technologically-advanced web-based applications to offer easy and faster funding.
Documents you need before applying:
Driver's License
Business certificate or license
Business plan
Balance sheet
Profit and Loss statements
2 years of personal and business tax returns
Loan application history
Credit score
Bank statement
Voided business check
Why Consider a Business Term Loan?
From low interest and set payment rates to the streamed application process and higher loan limits, there are a number of reasons that term loans are a fan-favorite among small business owners.
Business term loans are a relatively cheaper source of medium-financing and it gives the business the ability to use the money to work where they see fit. Moreover, applying for term loans is a simple and quick process. When you apply for a loan with a traditional bank, you may have to wait for six to eight weeks. But applying for a term loan with an alternative lender is super quick – like 3 days quick. With a term loan, you can fill out the loan application form within a few minutes from the comfort of your home or office.
Besides that, interest payable on the term loan is a tax-deductible expenditure, thus you can get taxation benefit on interest. Whether you need a small amount to purchase a piece of equipment or a huge amount of cash to acquire real estate, these loans are available for as little as $25k or as much as $500K.
Advantages of term loans every small business owner needs to know
Set payment structure
Borrow large amounts of money to finance expansion or growth
Low-interest rates
Long repayment terms
Lower monthly payments that short-term loans
Longer payment terms than short term loans
A quick and easy loan approval process
Potential prepayment penalties
Use for a variety of business purposes
Situations You Can Use a Term Loan For:
Whether you need to make a specific inventory purchase or finance a major technology purchase, you can use a term loan for nearly any purpose as a small business owner. Here are the situations you might think of using a term loan for:
Expanding your business – adding new employees to your team, introducing a new product, opening another location or acquiring a rival business
Refinancing business debt
Purchasing inventory, equipment, machinery, furniture, fixtures, supplies or materials
How do Term Loans Work?
The basic procedure of term loans is simple: you get a lump sum amount of money. You're then responsible for repaying the total loan amount over the period of the term, plus interest, which might be fixed or variable.
When it comes to the term loan, there is everything transparent. You know exactly what you're getting into.
Besides traditional banks, this sought-after financing product is available through various alternative lenders and even the Small Business Administration. Though they're not actually originated by the SBA, instead are backed by the government, making them a popular choice among small business owners.
While the maximum loan amount a small business can get range from $25K to $500K, but the exact amount you qualify for depends on your company's financial conditions and business needs.
If you're approved and received your funds, you might begin making payments to your lender on either a monthly, bi-weekly or weekly basis.
Remember, all business term loans are not the same. Depending on your business credit rating, cash flow, revenue and growth needs, and more, there are plenty of different kinds of term loans available.
How to Choose the Right Term Loan for Your Business?
Short term loans
These loans are usually unsecured that borrowers have to repay within a year in larger, often daily payments. Since there is an easy approval process and you don't have to put any collateral, interest rates may be higher than long term loans. We recommend you to go for a short term loan only when you will immediately receive the cash flow to pay off.
Short Term loans at a Glance
Loan Amount
From $2,500 to $50,000
Repayment Terms
3-12 months
Repayment Cycle
Often daily payments
Intermediate-Term Loans
These loans are perfect for expanding business location, hiring new employees, purchasing inventory, and refinancing debt. Intermediate-term loans generally run between 1 to 3 years and are paid bi-weekly or monthly from a company's cash flow.
Intermediate-Term Loans at a Glance
Loan Amount
From $50,000 to $250,000
Repayment Terms
1-5 years
Repayment Cycle
Bi-weekly or monthly payments
Long Term Loans
These are the loans that have a long tenure of more than five (or sometimes 20-25) years. They are the perfect funding option for undertaking large construction projects, purchasing real estate, capital investment, or other businesses. While these loans will in general offer lower financing costs, lenders normally provide loans to the most qualified borrowers.
Long Term Loans at a Glance
Loan Amount
From $250,000 to $500,000
Repayment Terms
5-25 years
Repayment Cycle
Monthly payments
How Much Does A Term Loan Cost To Businesses?
Because of their affordable rate of interest, the business term loan costs are lower than many of its counterparts.
If you're applying for a term loan to finance your small business, it's important to understand all the fees that are included in your term loan program.
Since your term loan fees vary by lender, it's a great idea to review carefully before applying for one. Here are some fees that may be tacked onto your offer:
Origination fee for processing a new loan
Processing fee
Utilization fee
Documentation fee
Prepayment fee
Late fee (when payments are not made on time)
Closing fee
Business Term Loan Example
Imagine you have successfully obtained a business term loan
In this scenario, you secure a $50K with a 4-year term at an interest rate of 10%. For the next 48 months, you will pay $1268.13 monthly, for a total repayment of $60870.2 and a total interest cost of $10870.2.
To understand your business term loan completely, make sure to ask your lender for an amortization schedule.